Once again our fantastic students here at Hazelbeck have risen to the challenge of being part of our Arts Week; this year's theme was 'Famous World Artists'.
The range of art produced was extensive and the activities were pitched at the right level to enable everyone to join in, creating a truly inclusive and immersive week-long celebration of the Arts.
Yellow Base created some fabulous painted canvasses based on the works of Cezanne, the students learnt in depth about his life and how his works made a strong impact during the 19th century. Orange Base made a very good attempt at creating art based on the works of Giuseppe Arcimboldo, an Italian artist who used different foods to represent people, students were able to use their fine motor skills to create their art work with seeds, leaves and paper.
The students in Gold Base created a wonderful feature board based on the works of Monet and post-impressionist, Vincent Van Gogh, was represented on painted canvasses with intricate patterns using coloured rice grains.
Teal Base students worked exceptionally hard in creating their art pieces and Sky Blue made a mosaic piece representing one of the works of David Hockney. A huge mural canvas was created by Olive Base who learnt about Jackson Pollock and went wild whilst splattering many different colours of paint to create their piece. Smaller canvasses were also created which are on display in Hazelbeck, they are truly brilliant and there were many other artworks being explored and worked on all across school including pieces inspired by Gustav Klimt which looked superb and masks created in both card and clay based on the works of Kimmy Cantrell.
We were lucky enough to have Dougie Upton, a retired Art teacher and specialist potter, to come in to support and deliver workshops for the whole week. Students found his support and work engaging and inspiring. Mr Upton will be back soon to support students with painting their clay masks once they have been fired in the kiln, so the students will have experience of working with clay from beginning to end.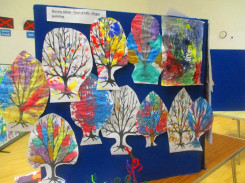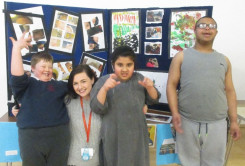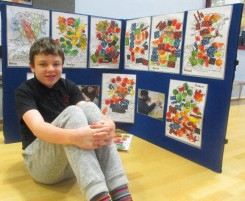 The sensory students took part in a wonderful sensory story delivered by some of our highly skilled PMLD Leaders of Learning, Joanne Harrison and Naomi Simpson. The afternoon session was very successful and was based on familiar activities which our pupils respond to well. Chiragi Solanki returned to deliver two dance workshops which again is an activity very engaging and motivating for some of our pupils.
The art work created during this Arts Week is outstanding and any initial challenges envisaged at the beginning were quickly overcome due to the skill and diligence of all our Hazelbeck staff. Our students never fail to impress, they are hardworking, willing to learn and to develop new skills and they take on much of the independent thinking behind events like these, it is a privilege to see them all blossom in this way.
Well done every single one of you!