SMSC & British Values
Spiritual, moral, social and cultural development (

SMSC) underpins our curriculum and ethos at Hazelbeck and permeates all we do throughout day to day life in school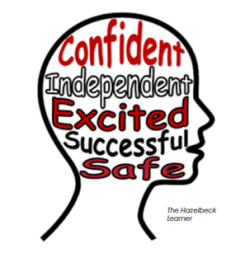 At Hazelbeck we support students' spiritual development by helping them to understand the world around them.  We provide learning experiences both in and out of school to help expand their world and encourage them to look at the world from different perspectives. We have opportunities built into each day for individual and collective reflection to help students to build their spiritual and moral development. Through these reflections we encourage students to respect each other's feelings, opinions and faiths.
We have RE weeks which students take part in at an appropriate level to their understanding.  During the week students visit places of worship, have speakers come to talk to them and take part in a variety of creative activities to help them better understand a range of religions.
Our PSHE curriculum, promotes students understanding of 'right and wrong' and supports them to understand the consequences of their actions.  We encourage them to develop their reasoning skills for example through the use of Philosophy for Children, story-telling, problem solving and role play scenarios. Student voice is promoted and valued throughout the curriculum at all levels.  We pride ourselves on listening to students' choices and helping each other to understand that there isn't always a 'right' choice.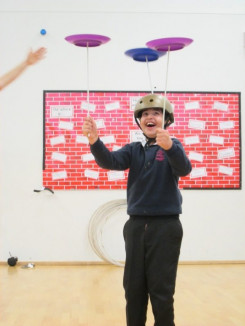 We have a focus on Total Communication (through use of touch cues, gesture, facial and body language, Makaton sign & sign of the week, symbols, speech or any combination of these) throughout the school to ensure that all students can communicate with each other and with adults in an appropriate manner so that their voice can be heard.  Alongside the ability to communicate we encourage student co-operation and leadership across the school.  We do this through creating meaningful activities and sessions so that students have a reason to work together. We have a termly 'Community Day' where students from different areas of the school come together and work on joint projects and activities culminating in a celebration activity.  Students across the school are invited to take leadership positions within the school for example they may become a Playground Leader, a member of the 'A Team' (school council) or Learning Star.  Through our PSHE curriculum we encourage students to work on resolving conflicts both through role play scenarios and when they arise in everyday life - supporting students to become more able to manage their own emotions, behaviour and social interactions.
We have a broad and balanced curriculum for all learners.  We achieved the ArtsMark Gold Award in 2019 and have a focus on bringing cultural influences in through the Arts. The Arts provide a meaningful tool for all students to access different cultures at a level that is appropriate to them. Our PSHE curriculum encourages students to understand, accept, respect and celebrate diversity, whatever that diversity may be. Students are taught to have an understanding of stranger danger, e-safety, public and private, bullying, racism and homophobia.
We build in opportunities for students to learn beyond the school building through Forest schools, Outdoor learning and Community Access. We have a variety of extra-curricular clubs including Sport, Horse Riding, Art and Sensory clubs.
---
British Values
We promote 'British Values' through our spiritual, moral, social and cultural education which is threaded throughout our school curriculum and supports the development of the 'whole person'.We recognise that such development is most successful when those values and attitudes are promoted by all the staff and provide a model of behaviour for our students.
The rule of law
We promote the rule of law by helping students to make decisions and choices that are acceptable to the school community and society at large.  We do this through:
Students being involved in class rules and expectations.
Helping students to understand rewards and consequences and supporting them to manage their own behaviour.
Supporting conflict resolution is promoted throughout the day.
Providing clear and consistent routines and boundaries in order to help students feel safe.
Consistent modelling of expected behaviour from staff.
Safeguarding week and e-safety.
---
Democracy
We promote democracy by empowering young people to make decisions about things that are important to them. 
We do this through:
Annual election for the A-Team (School council).
Voting for choices for end of term rewards.
Voting for choices throughout the school day.
'CAT' (Creative Arts Team) select who they would like to come into school for workshops/concerts etc.
Debates through Philosophy for Children.
---
Individual freedom
We promote Individual freedom by helping students to become valued citizens. We do this through:
Promoting students' independence.
Listening to student voice and believing that everyone has the right to say 'yes' or 'no'.
Encouraging students to respect each other's rights.
Promoting student leadership and responsibility to promote students' self-belief.
Charity events e.g. MacMillan Coffee Morning, Children in Need, Fundraising for charities abroad.
Mutual respect
We promote mutual respect by each student's inclusion in activities that are appropriate to them individually to meet their needs.  We do this through:
Having a personalised curriculum.
Every student is involved in an extra-curricular lunchtime activity group.
'Community' days where the whole school community comes together to learn and work together.
Promoting meaningful links with our co-located school, Beckfoot, to encourage students in both schools to better understand each other and work together.
---
Tolerance of those of different faiths and beliefs
We are part of a school and local community where each person is respected and valued equally without regard to ability, gender, faith, heritage or race. We promote tolerance of different faiths and beliefs through:
RE week and Community days provide students with opportunities to broaden their experience and understanding of each other and the local community.
Team work opportunities allow students to grow an understanding of each other irrespective of differences.
Diversity and British culture is learned about and celebrated throughout our curriculum.